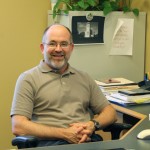 Hello there! I'm so glad you are visiting our web site. Hopefully you'll find all you need to know about Pompey Community Church (PCC) here. And if there's anything missing, or you would like to talk to me about something, feel free to contact the Church Office at office@pompeychurch.org or 677-3068.
PCC is all about coming as we are and becoming all that God wants us to be. We accomplish this in a variety of ways, starting with heartfelt singing, sharing, worship and a message from God's Word every Sunday morning. Then there are Sunday school classes for all ages during the school year, our Saturday night youth groups, weekly Bible studies, monthly communion, baptism services, small groups in homes, lunches for our seniors, and lots of special events. We try to offer something for everyone, no matter their age.
I've been the pastor at PCC for more than 10 years, and I'm more excited about what God is doing than ever before. My vision is to see those who attend PCC experience Jesus personally, then reflect His light in their homes, families, schools, work places and communities. I hope that you'll visit us sometime, and if you do, please introduce yourself to me, I'd love to meet you.
God bless you!
Pastor Wendell